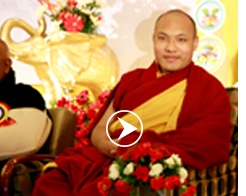 Karmapa 900 Delhi: December 23 - 25, 2011

Featuring:
"Ancient Wisdom, Modern World"
Dharma Teachings by His Holiness the 17th Karmapa

>CLICK HERE FOR VIDEO, PHOTO GALLERIES,
TEACHINGS & REPORTS!

To mark the 900 years of flourishing of the Karmapa reincarnation lineage since Dusum Khyenpa's birth, a three-day commemoration paid tribute to the 900-year old bond between India and the Karma Kagyu linage. Karmapa 900 Delhi included Dharma teachings by His Holiness the Karmapa, Ogyen Trinley Dorje, as well as performance of sacred Sanskrit dohas and a Tibetan cultural programme by the premier Tibetan performing arts group, TIPA. The Gyalwang Karmapa offered Dharma teachings on "Ancient Wisdom, Modern World," as well as a long-life empowerment.